Click on a question below for further information about this course.
General information
Who should take this course?
This is an awareness course suitable for anyone who is liable to disturb asbestos during their normal work. The Control of Asbestos Regulations 2012 stipulates that employers must provide appropriate training for all staff likely to be exposed to asbestos. This regulation also applies if you are self-employed.
The aim of this course is to give delegates an understanding of the dangers from asbestos and to how to avoid exposing themselves and others to those dangers, thereby creating a safer work place.
What is the course content?
The course is divided up into four sections:
1. What is asbestos?
The nature and properties of asbestos
The history of its usage
2. Asbestos and its effects on health
The effect of asbestos on health
3. Asbestos Containing Materials
Locations in buildings where ACMs are likely
The importance of the friability of an ACM
Different types of ACMs in buildings
4. Asbestos bans, laws, surveys and registers
Asbestos bans and the law
Asbestos surveys and registers
What to do in an incident
How long will the course last?
The course should take you approximately 2 hours from beginning to end. Note that there is a short quiz after each section that you will need to complete in order to finish the course.
How soon will I have my certificate?
As soon as you complete the course, you will be able to download your certificate. We'll also email you a copy.
How long is the certificate valid?
The certificate is valid for 12 months.
Do the licences expire?
No. You can purchase a licence and take the course at any time – the licence doesn't have an expiry date.
If I purchase multiple licences do I get multiple log-ins?
Yes, we email you a licence number and password for every licence you purchase. You can then distribute these to your users who can take the course at any time.
Can I track the usage of my licences?
Yes, if you buy multiple licences we can provide you access to the system which allows you to see which licences have been used or are still available and which of your members of staff have completed the training.
Where should I take the training?
We recommend that you take this online course in an environment that is conducive to learning, e.g. somewhere that is quiet and free from distraction.
What computer equipment do I require?
You don't need any special software to take the course, just an internet connection. However, a screen size of 10 inches or greater for your monitor is strongly recommended and a minimum screen size of 7 inches is required.
Technical support questions
The system says it doesn't recognise my licence number or password. What can I do?
The easiest way to log in is to use the Quick Log-in link in the email containing your licence key. Just click the link to go to the Log In page with your licence key automatically entered. Then just enter the 4 digit password to log in.
If you continue to experience problems logging in, we recommend that you copy and paste your licence number and password from the email to avoid any accidental mistyping. No matter how careful you are in typing the details in, it's easy to misread a letter or a digit. If you would like to know how to copy and paste, please follow the instructions below.
1. Open the email with your licence number and password. Please note that you will need to have your email and our website open on the same computer – you won't be able to copy and paste from one device to another.
2. Move the cursor to the left of the long licence number.

3. Click and hold the left mouse button at the left of the licence number and drag across the number so that it is highlighted. You can release the left mouse button once the numbers are highlighted.

4. Move the cursor over the highlighted numbers and right-click (click the right mouse button). A short menu will appear.

5. Click 'Copy'.
6. Switch to the log-in page on our website and move the cursor over the first input field. Right-click and the menu will appear.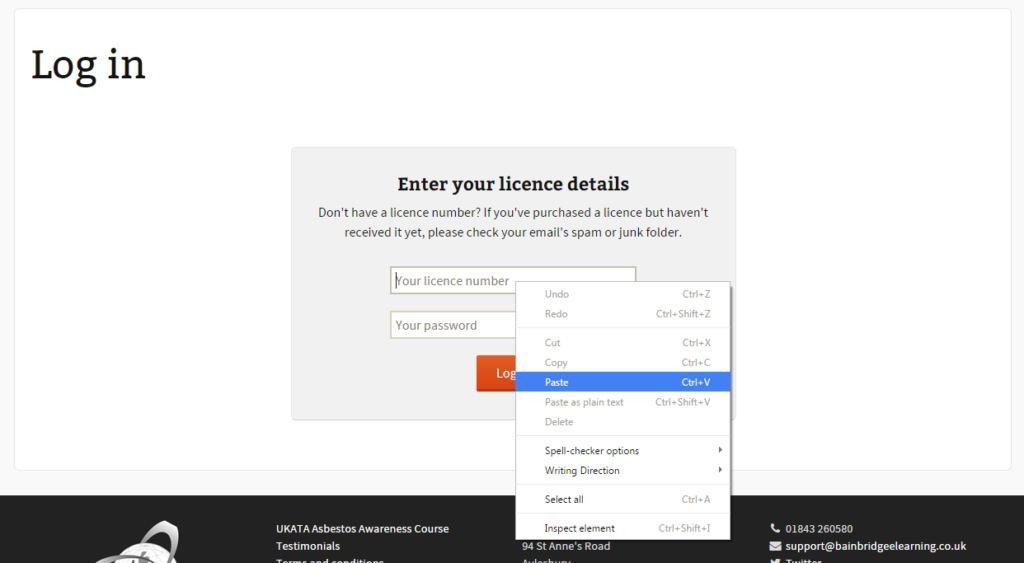 7. Select 'Paste' and the licence number will appear in the field.
8. Switch back to the email and repeat for the password. Highlight it, right-click and select 'Copy':

9. Switch to the log-in form and right-click the second field. Select 'Paste':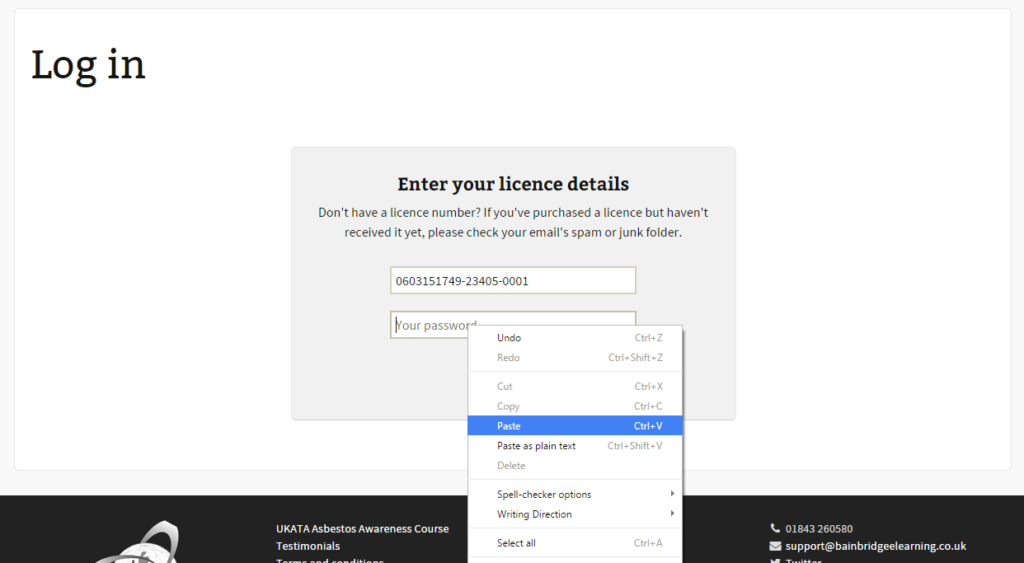 10. You can now log in.
I haven't received my licence number and password
This is emailed to you as soon as you complete payment. We suggest looking in your Junk or Spam email folders as our email has possibly ended up there.
I haven't received my certificate
This is emailed to you as soon as you complete the course. We suggest looking in your Junk or Spam email folders as our email has possibly ended up there.